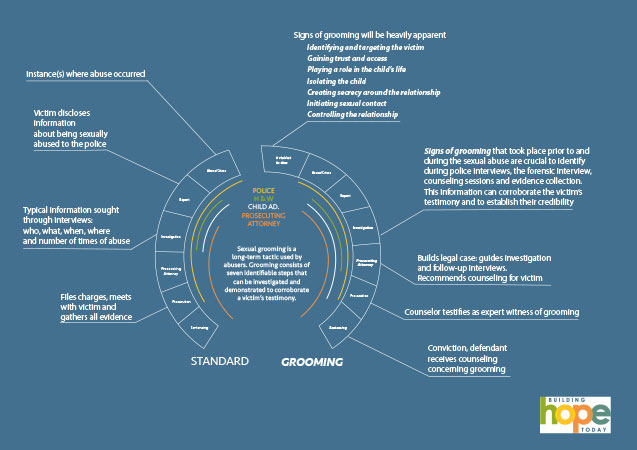 Helping With Grooming
We teach prosecuting teams to use grooming identification in childhood abuse cases. Many of the leadership of Building Hope Today have been victims in court, we know just how hard it is for victims to find their voice, to expose their vulnerability to the justice system of judges, defense attorneys, and jurors not to mention the offenders themselves. A child victim witness and an adult victim witness both are required to testify against their accuser and both are expected to provide sufficient evidence and testimony beyond a reasonable doubt to sustain a conviction.
Cases involving children are particularly difficult and unpredictable. At Building Hope Today, we believe we can train and educate our law enforcement, our counselors, and ultimately our jurors about the special nuances at trial involving minor children. We will educate on the steps of grooming, and help criminal cases quantify grooming as supporting evidence to strengthen cases. Other note worthy aspects is helping understanding as to why children don't immediately tell of abuse and why delayed disclosure is so common. It is sophisticated and difficult for the common person/detective/juror to understand. Building Hope Today has the ability to be a much needed statewide/nationwide clearing house, advocating for specialized training involving child abuse investigations increasing the chances of conviction.
Child sex offenders are masterful at deceit. They break down a child's natural barriers and turn "normal" social mores on their head, often times thoroughly confusing and manipulating children for the offender's own sexual gratification and on-going access for further abuse. Building Hope Today's charter is to expose the most common denominators used by sex offenders. We believe by teaching investigators, counselors, schools, and faith based leaders of these dynamics could be a real game-changer for not only victims but would be jurors and judges who must hold offenders accountable with guilty verdicts and further safeguard other potential victims.